Blogging is not only the best way to express your thoughts and feelings in words but also good to reach your potential audience. These days the best way to reach your audience is to let people visit your site by finding you via Google. How do they find you? Well, they write something(called Keyword) and search about it and click on the link they think would be more helpful and interesting. After all this is how Google or any search engine work right?
Many software developers who maintain blogs usually don't care about their audiences( I'm one of them), they are excited and passionate enough that they just share their findings with outer world without knowing whether it will actually be read by certain group of people or not which results that often good blog posts are not featured by Google thus nobody read them at all. They just assume and believe that since they wrote a Super Hit post, people will attract to it just like a Honey bee to flowers. The end result: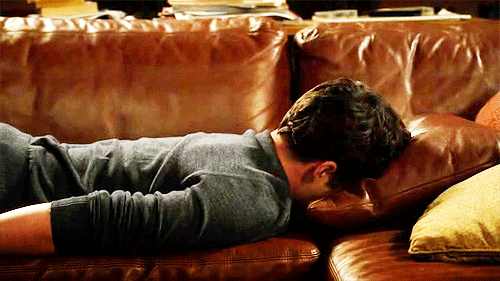 While writing my last blog post about Web Scrapers in Python I thought to give free online SEO tools a try. I was more interested to find out best keywords that I could use in my blog title. Without further ado let me share the process I followed.
Google Keyword Planner
Google Keyword Planner is a free tool offered by Google. After fiddling with a few combinations I got settled with it.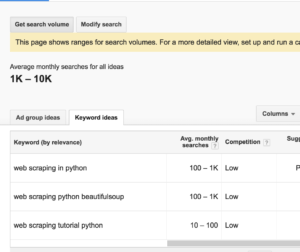 As you can see for these keywords competition is low. Competition means, how easy could your web page be ranked higher on Google when users search these keywords. Average monthly searches tell about the number of times people would have made search about it. In my case this is quite a decent amount.
Google Trends
Google Trends is the next free tool offered by Google. If Google Keyword Planner gives you idea what kind of keywords are more suitable, Google trends tells you about the interest of users over the period of time.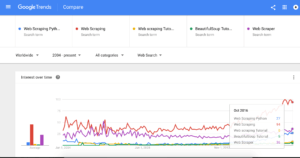 The graph gives you idea which keyword or set of keywords would be a good fit for your blog title.
Buzz Sumo
Buzz Sumo is an awesome tools that helps you to learn about social media pulse in your domain. I put keywords I had discovered in first two steps and this is what I got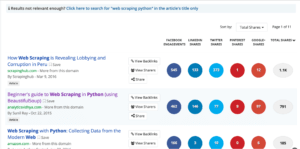 As you can see, the second link is more relevant to me. Look at the social share figures. Buzz Sumo can also give you the idea about what kind of posts people share most thus could be helpful to set a layout of your blog post.
Results
Finally, I am going to share the screenshot of Google Search Console. The screenshot was taken a couple of days after my blog post was indexed by Google. This is not very encouraging because it's just two days after the post got indexed by Google.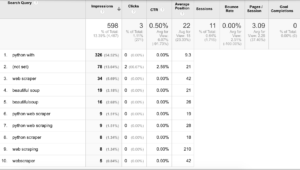 Oh by the way, if you want to know whether your newly published blog post have been index yet or not, try info:<your awesome blog post url>. It takes a week to 10 days before it appears in Google, all depends on popularity of your website/blog. In my case it says it was indexed on Oct,11,2016.
I hope you'd find this post useful, specially developers, designers or other tech savvy people who want to reach out to their audience but don't know how to do it. These free SEO tools could definitely give you a kickstart. If you want to dig deep further this blog post will definitely help you out.