2017 is almost over. This year was very exciting in terms of taking initiatives in different aspects of life. I resumed technical blogging, create more open source work and starting video tutorials. Actually it all started when I resumed blogging on this very blog and created a post that became massive hit and made me to continue blogging. BTW I am not new into writing. I had a technical blog back in 2003 where I used to share different things. I had another blog where I used to share the other side of me, that is about politics, religion and current affairs. I am happy to say I am better with what I am doing now that is sharing things related to what I usually do. This blog opened different doors for me in terms of both learning and earning.
Here, I am going to share a few numbers related to things I did in year 2017. So here we go.
Personal Blog
As I said I resumed blogging on this domain in early 2017. Some of the stats are given below:
Total Sessions in a year :- 40822
Per month:- ~ 3400
Traffic Resource:-
Google Organic:- 25,865
Direct Access:- 7,378
Twitter:- 528
Flipboard.com:- 239
Facebook:- 96
LinkedIn:- 91
I am quite happy to see that Google Organic Search is on top and one of the reasons is the Facebook Chat post that got viral after getting endorsed by a big Facebook group for Chat Bots! I also shared a few tips how I select title/keywords for my posts here.
You can see that Social media did not help me as such so I don't think it's good to use it specially LinkedIn.
Check the screenshot: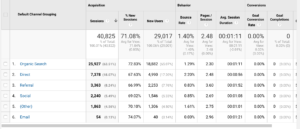 Medium.com
When I submitted my Facebook Chatbot post in Chatbot group on Fb, Matt Schlicht  who is administer of Chatbot Group and Chatbot Publication messaged me and asked me to submit this article for his Chatbot Magazine. I immediately said Yes!  and copy/pasted the post on my Medium account. It went further viral and many people liked it, Alhamdolillah. Since then I came up with a strategy to copy same content with reference of my own blog on both Medium and LinkedIn. LinkedIn experiment was not so successful but Medium.com did work very well. Here are a few numbers.
Total Views:- ~83K
Hot Post:- https://medium.com/python-pandemonium/develop-your-first-web-crawler-in-python-scrapy-6b2ee4baf954
The stats of above post given below:
Views:- 43K
Reads:- 12.5K
Read Ratio:- 29%
Fans: 69
Writing on Mediu.com opened the doors for me to write other publications Right now I belong to Chatbot Magazine and Python Pandemonium. My python posts are currently all directed to the mentioned publication which itself has 1.6K followers
Newsletter
When I resumed blogging I also started a newsletter at same time.. in fact I did started earlier with different list name but it was abandoned and later when I resumed blogging I resumed newsletter as well. Some of the numbers are given below:
Total Subscribers:-  167
Click Rate:- 4.4%
Open:-  21.4%
Not very good in terms of reading ratio but that's OK. I seriously did not implement tips MailChimp offered to increase audience. Hopefully do in 2018, inshaAllah.
Youtube Videos
Another experiment I did on this year was attempting to upload Youtube Videos. Initially I uploaded youtube videos of my work I did in recent past, just to get more attention of others but very recently I started video tutorials as well. I started with Python Web Scraping Series in Urdu/Hindi which got a good response and now I am all up to create video tutorial series for Python programming itself. Here are few numbers related to youtube:
Personal Projects

Videos:- 4

Views:- 30

Watch Time Total:- 22m

Avg Watch duration:- 43 seconds

Subs:- 1

Likes:- 0

LearnXDoing Channel

Videos:- 3

Views:- 130

Watch Time Total:- 579m

Avg Watch duration:- 4:27m

Subs:- 4
Github
Github was the place where I used to upload my free/open source code. Here are some stats about it:
Commits:- 840 both pub/private repos.
Repos:- 32
Followers:- 44
Books
Unfortunately I couldn't finish up much books in 2017. Unlike 2016 in which I finished 10 books I was only able to do 2 books. I have a legitimate excuse that I got into many new things, had traveling and other stuff. But hey, I have come up with a new philosophy about reading books now; instead of reading books as text books where you gotta finish books anyway, I'd rather read them as reference books. This will help me to read multiple books without fear of finishing them up. Why to rush? I started 15+ books this year and coming years I will study more and will do cherry picking based on what kind of stuff do I need. Now, at least I can't be as far as Dr. Zeeshan Usmani who recently revealed he finished 400+ books in a year!
That's it from my side of the world in year 2017. In coming year I will put a few further data probes in my personal life as well and share here. Offcourse not like this one, rest assured.
Stay blessed and happy and I wish you a prosperous and happy year 2018!